Online ordering is fast, easy, and secure. A license is emailed shortly after the transaction completes. Please try the evaluation version before purchasing.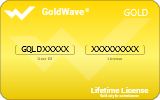 New! Please consider a Limited Edition License to support our Open Source Goal.
Lifetime GoldWave License
x
PayPal

License never expires!
Free upgrades!
Works with all versions of GoldWave.
Includes Windows, iOS, and Android.
One Year GoldWave License
x
PayPal
For maximum security, transactions are performed on secure, independent servers (through Stripe or PayPal). GoldWave Inc. does not receive your credit card information.